Mossburn Distillers looks back to the history of the Isle of Skye as its inspiration for a new duo of blended malt Scotch whiskies.
Mossburn Distillers has created an approachable Scotch whisky brand that pays tribute to Hebridean life and lore.
Caisteal Chamuis is designed to welcome drinkers to a world of peat fires and misty sea breezes often seen on the Western Isles.
The brand is named Caisteal Chamuis (Castle Camus for non‐Gaelic speakers) after a castle that lies on the headland of the eastern flank of Knock Bay, on the Isle of Skye. The castle is visible from Mossburn Distillers' single malt distillery, Torabhaig.
Last occupied over 380 years ago, the first elements of the castle were raised in the 13th century on the site of an Iron Age fort known as Dun Torabhaig. The ruins signify the rich heritage of the Isle of Skye.
Ancient lore said that the ghosts of bloody battles at Caisteal Chamuis float through the mist on this foggy Hebridean island. Despite Skye being enshrouded in ancient mystery, Mossburn Distillers' new brand aims to demystify the world of peated malts.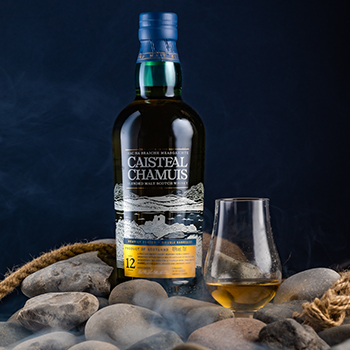 The brand debuts with two expressions, Caisteal Chamuis 12 Year Old Sherry Barrelled Blended Malt Scotch Whisky and Caisteal Chamuis Bourbon Barrelled Blended Malt Scotch Whisky.
The full‐bodied, smoky blends marry heavily peated whiskies, and each carry an ABV of 46%.
Caisteal Chamuis 12 Year Old is made from a blend of single malts all distilled on Islay and Orkney. It has been matured in oloroso Sherry butts, resulting in a 'rich and smooth' whisky with a 'complex fragrant, heathery, lavender‐like peat'.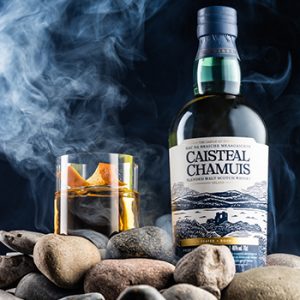 Meanwhile, the bold and smoky no‐age‐statement bottling offers a balance of heavy peat smoke with a crisp oak spice and vanilla finish. The expression has been distilled on Skye, Orkney and Islay, and is finished in first‐fill Bourbon casks.
Rick Bennett‐Baggs, marketing director at Marussia Beverages, owner of Mossburn Distillers, said: "The peated malt whisky category can often be perceived as intimidating, so while the lore surrounding Caisteal Chamuis may be mysterious, we recognise that enjoying a peated blend doesn't need to be. Our duo of blended malts seek to transport drinkers to the misty Hebridean isles."
Caisteal Chamuis 12 Year Old (RRP £49/US$67) and the no‐age‐statement Caisteal Chamuis whisky (RRP £39/US$53) are available to buy in more than 15 markets, including the UK, France, and Germany, and in the US this month.